How to Start a Travel Agency Business?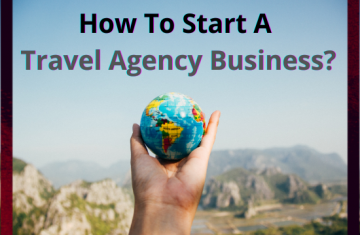 Are you thinking to start a business but you have a small investment. If you are like this, you can start a travel agency business which is very profitable business than any other small investment business. If you are a passionate entrepreneur, travel agency is the best choice for you to earn money in an easy way with fun. When you will start your business, you will not only sell services and products but also you can visit and enjoy different historical and beautiful places.
You can design your services and product in your own way that will be your business strategy which makes you unique than others. You can sell tour packages, hotel accommodations, car rental, cruises, tourist guide, tourist visa support, ticketing etc. All these you can consider as your main product line. You will be able to start your travel agency business with limited staff.
Scenario of Travel Agency Business
Scenario of travel agency business is very promising and fast growing industry in Bangladesh.
Gradually it is going to become a gigantic industry in Bangladesh. So there are many scope to establish a travel agency business as an aspiring entrepreneur. Lots of travel agencies have already doing their business over the country that means you have many big competitors in this sector. So you must take some crucial steps by finding the perfect location for getting legal permission and reaching partners and customers.
As they are minimizing all difficulties and bothers to purchase of tickets, picking the affordable packages, the travel agencies make traveling much easier for customers. That's why the offline travel agents and their businesses had slowed down.
Easy Way to Start a Travel Agency Business
There are some basic tricks need to follow while you are setting up an online travel agencies or a conventional offline agencies. You must keep in mind that when you are in business, there are many established agencies are your competitors.
People always taking services from their know agencies as well as refer their friends and family know agencies. This is because, catching customers will tough, but if you hire some experienced guy they will support initially and after that providing quality service to grow your customer community gradually. Still, there is a wide scope to establish a travel agency in Bangladesh.
Some basic steps to start a travel agency business,
Step #1 – Market Research
Before starting your business, you have to find out your niche market which will play a vital role to prepare business plan. Most of the new travel agency business owners make common mistakes, they are trying to sell everything and taking challenges from everywhere. So if they research market segment in a proper way and start their business with selective services and products. They must success undoubtedly.
Without market research may not be a wise thing for a startup business to start. So it's potential to find out what is your travel niche market.
If you fixed a particular segment of the market, you can narrow the competition. It's a rare case that there are very few owner explored thus far the niche market.
You will also get a good potential for growth in it. So, you need to do a comprehensive research to find out what the niche is perfect for you.
You have to find emerging products or services which are very few agencies are able to meet.
This is the best scope to grow your organization because very few agencies are working in the niche. You may work on corporate tourist event by researching the market.
You can start your operation by offering a complete package that not many travel agencies are providing.
Step #2 – Strategic Business Plan
If you have a complete strategic plan, you will keep your momentum and get guideline how to run your business successfully. If you follow your strategic plan strictly, you must gain your goal. Otherwise you will be failed. Actually strategic plan is not a business plan, it's set your goal exactly and having your research & unique ideas of what you will be doing. As it's much more important than business plan, you should keep record in detailed decumbently and key points should be highlighted in the doc. Before implementing any plan, you must crosshatch with your strategic plan.
In your strategic plan, you should be included your market analysis and sales strategies report in details as well as you should ensure to mention your total finding requirements and financial projections. If you fixed a clear picture of your business goal, mission, vision should be included in the strategic plan.
Step #03 – Branding and Marketing Plan
It's not mandatory only for your business, branding and marketing is very important for any kinds of business. Marketing is the process to actively promote your product, service and company. Branding, on the other hand, marketing practice is shaping your brand actively. So branding and marketing is so important to promote your products or services that you sell or provide.
Branding first step is designing an informative or idealistic conceptual logo. Logo is one of the most active way to establish a positive perception on your company. As your business is almost depends on technology, you may emphasis on digital & social media marketing which is more effective than others. You may design some brochures, business cards, staff ID card etc, which are the part of your business branding. You can also make TVC, OVC, Terser these are also the part of your business branding.
Step #4 – Legal Exposure
If you want to start your business legally, you have to fulfill the legal requirements according to your local government required.
Step#5 – Office Location
"Location, location, location." We've all heard that famous phrase, which drives home just how important location is when choosing a space for your office. So when choosing an office location you should consider the below key points,
Hidden Cost

Brand Image

Legal Considerations

Competition in the Area

Convenience for your Staff

Easy for Visitors to Visit
Some other considerable steps that are essential for your travel agency business are below:
Make Sure Your Financial Projection

Branding Your Travel Agency

Focus on Digital or Social Media Marketing

Build Customer Relationship

Optimize Your Online Business

Set Practical Goals of the business